What is advertising?

According to Kotler,
"Advertising is the paid form of non-personal presentation and promotion of ideas, goods or services by an identified sponsor."
Advertising can be defined as a marketing tactic to communicate with the consumers of a product by paying for space to promote for product or service. The goal of advertising is to influence the buying behaviour of the existing customers and attract new customers by defining target market with an effective ad campaign.
What are the needs and benefits of advertising?
Advertising is a prominent part of promotion as it has a huge reach of audience. The benefits of advertising includes: launch of a new product, market expansion, consumer awareness, establishing direct link between manufacturer and consumer, raise in volume of sales and building goodwill of brand.
What is online advertising?
Advertising using Internet as a medium to promote messages on online laptops, smartphones and tablets is known as online advertising. The major advantage of online advertising is quick reach to larger target audience beyond geographical boundaries.
What is Quora?
It is a question and answer platform which allows the users to ask, answer, edit and organize responses to questions, virtually to any topic or industry. It was founded by two former Facebook employees Adam D'Angelo and Charlie Cheever. It allows the user to follow topics and share knowledge and expertise. It also allows other users to comment or object a response, like a typical conversation. Based on the upvote and downvote for the responses by the users, Quora uses its algorithm to display the best possible results.
Following are the unique selling points for Quora:
As industry leaders from various sectors are part of Quora, the authorities find it a #1 single place for content marketing
Used by companies to promote brand awareness.
As users expect credible and expert answers on Quora, it's a platform for marketers to showcase their expertise in their field of business as authority figures, drive traffic to their site and boost conversions. For example, an answer to security threat question by IBM Security adds on more credibility to the answer.
Who is the target audience of Quora?
As Quora is a disciplined and restricted platform compared to other social networking websites which contains questions and answers related to any industry, its target audience essentially includes people looking out for information. It includes people who either have questions, looking out for an answer for a question or both of them. Their actual audience includes people from varied age groups ranging from company leaders, subject matter experts, students and people who aspire to become thought leaders.
What are Quora ads?
Quora's ad platform is relatively new compared to Facebook and Google ad platform which form a mature market. As per a report by Quora, it started its ads beta on April 2016, allowing Lever, Uber, Wealthfront and Sunrun to display their ads. Quora opened its platform for displaying ads to all brands on May 2017.
Quora ads are generally text-based native ads to drive visitors or users to advertiser's website. They are generally placed adjacent to core content on the page, beside questions and answers. With Quora's self service ad platform, Quora need not surrender its valuable workforce to sell and target ads. The ads are targeted based on variety of features such as platform, topics and location.
What is the importance of Quora ads?
Users come to Quora platform to exchange knowledge and receive quality solutions to their questions. As users research about a topic and product before making the purchase, Quora ads reach and influence the users at key moments.
What are the different types of ad under Quora?
Text ad – In this only text is included
Image ad – In this the advertiser can include an image and company logo along with headline and body text. The file format accepted here is .png or .jpg. Recommended dimensions are:

Company logo = 500 x 500
Image for desktop = 1080 x 576 (minimum: 540 x 288)
Image for mobile = 900 x 628

Where should ads be placed?
Though placement of Quora ad is continuously evolving, currently the ads are placed either below question and answer on questions page or below the expanded version of the answer when the user clicks on an answer from their home feed. Ads can appear both on desktop and mobile version unless mentioned specifically.
What is the cost of an ad?
Ad on Quora are priced based on cost-per-click basis. The advertiser will only pay for the clicks on his ads, rather than on the ad impression. The advertiser has to fix a cost-per-click bid for his ad and this ad would compete against other ads in an auction. The winning ad is selected on the basis of the cost-per-click bid and the likelihood of a click on the ad. As the process of winning ad is through auction, there is no pre-set cost for clicks.
"Higher you bid, higher the clicks you receive"
What is the number of ad that can be listed on a page?
The number of ad listed on a page varies depending on the amount of content on the page. More the content on question page, more eligible it will be for more ads than the question page with less content.
What are ad targeting options?
Ads on Quora can be targeted by:
Interests: Users are targeted based on their recent reads or based on their topics of interest.
Topics: Topics on Quora are targeted by companies related to their products or services.
Keywords: Questions that match their keywords are targeted by the advertisers.
Questions: Questions on Quora are targeted by companies related to their products or services.
Location: Ads are targeted geographically which includes users at country, state, city or pincode.
Audience: Existing customers or recent visitors of their website are targeted by the companies.
Platform: Desktop users and mobile users are targeted

What is the structure of Quora Ad campaign?
Ad campaign has three sections –
Campaign summary in the Ads Manager gives an overview of the performance of the ad on different levels- whole account campaign, ad set or ad. You can analyse the KPI under different timeframes. You can also make changes to the ad by editing the ad name field.
How to evaluate Quora Ad campaign?
Quora allows the user to run text ads, image ads and mobile app download ads. Follow the following steps to create a Quora ad: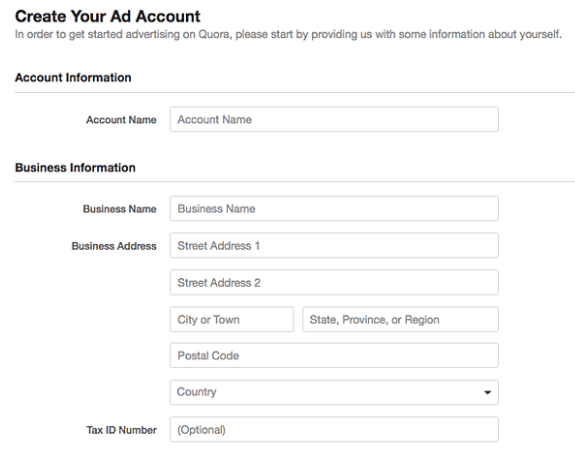 Fill in additional business information which includes information on website URL and business description.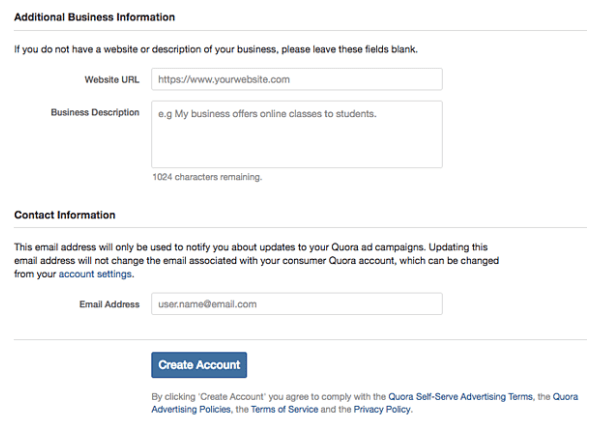 Metrics used to evaluate the campaign are:
Manage Ads: There are two broad sections under this section.

Spending Summary: Spending Summary consists of data on Impressions, Clicks, Conversions and Spend. Each one displays interactive graph which would help advertiser compare respective trends over time. These trend graph can be viewed based on different time frames.
All Campaigns: All Campaigns dashboard consists of summary of campaigns run by the advertiser. It consists of following metrics to evaluate the ad campaign: Delivery, Impressions, Clicks, Cost per Click, Conversions, Conversion %, spend and remaining budget.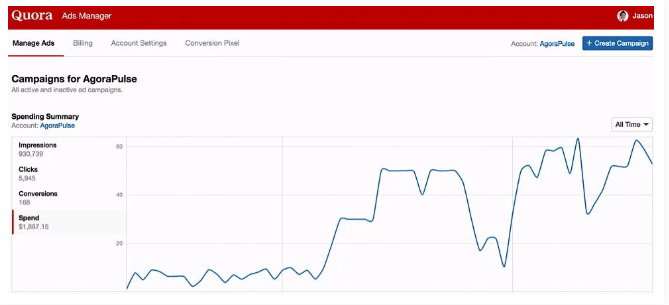 Conversion Pixel: This metric allows the advertiser track the impact of Quora ad campaign on his website. Conversion Pixel under Quora Ads manager consists of a snippet of code which needs to be added to the page used for tracking conversions.

How to set up your first Ad campaign?
Click on "Create Campaign" button in the Ads Manager
Name the campaign under "Name Your Campaign" section and choose your objective. Objective once set cannot be changed.
Set a campaign budget – either a "Daily maximum budget" which includes maximum amount you could spend in a day or "Lifetime budget" which includes the total amount you could spend over the lifetime of the campaign.
You could set your schedule by either starting the advertisement immediately or setting up a custom start and end date.
Click on the "Quora Conversion Pixel" to check if the conversion pixel is working. Then click on "Continue" to set up ad sets.

Verification: "Recent views on the Pixel" confirms if the pixel is working. The view count should increase
Name the ad set and set the targeting criteria.

Type in the topics inside "Topics" field. You can get ideas under "Import and map keywords to topics".
You can target geographical locations under "Location" field, it is optional though.
Select the platform – "Desktop", "Mobile" or both.
You can click on "Exclude Locations and Questions" to type in location and question you want to be excluded.
Set up your cost-per-click bid. Quora auction will be help where Quora will use its algorithm to choose the winning ad based on factors like likelihood of user clicking on the ad, ad bid and effect of ad influencing user experience. At the end of this, you could see the Ad Set summary.

Create your Ads under "Create a New Ad" page. On this page, you can set up

Ad Name
Business Name
Headline – Complete sentences with maximum 65 characters and end with punctuation
Description – Maximum 105 characters with correct capitalization. Strikethroughs, italics, bold, underlines, and emojis are not allowed in description. Inclusion of links, "Quora", profanity or sexual related content is not allowed unless prior permission is obtained from Quora.
Landing Page URL – The URL should be in English and should not trigger pop-up, initiate automatic download, lead to error page, link to a file or have "Quora" in it unless prior permission.
Display URL – Maximum 30 characters with domain of your final URL.
Call to Action- Quora offers 16 different CTA
Click on "Continue" to launch the campaign.
You can use conversion metrics to measure your campaign performance