Reddit, a site which bills itself as "the front page of the internet", is a massive collection of forums which provides a platform for users to share news, content and comment on others post. As printed newspaper displays headlines and topics which editors consider most important similarly does Reddit which makes them unique.

Reddit is a collection of millions of subcommunities, also known as subreddits. Each subreddit is a themed board where community members post user-created content. Community members who create subreddit also form forum rules which are enforced by other users known as moderators. Moderators can delete comments that violate the rules of subreddit and exclude the repeat offenders.
Subreddit deals with a variety of topics like technology, science, business, politics or sports. The front page of Reddit consists of the most popular posts from all the subreddits.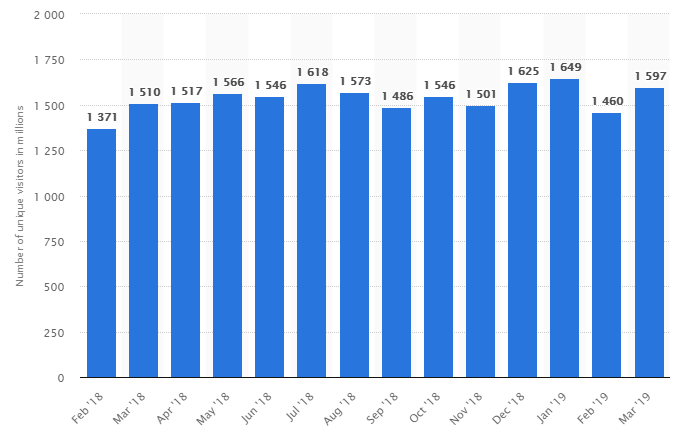 Combined desktop and mobile visits to Reddit.com from February 2018 to March 2019 (in millions)
Source: Statista
According to a report by statista, 1.6 billion visits were measured on Reddit in March 2019, making it the most visited websites online. Reddit is growing year on year with 30% growth in views. Reddit gives the highest engagement compares to other social platforms as users spend more time in the app than other social media users.
How are posts selected for Reddit front page?
Reddit gives tremendous value to the content on its site and rewards the user with content which is unique, interesting and engaging with high traffic. It uses a point system of upvotes and downvotes for each post. This gives the community the power to determine which posts are important and should be displayed subsequently on the front page. Along with upvotes, karma point is an important element of Reddit. The user receives one karma point each time he receives upvote for one of his posts and loses one karma point for a downvote for his past posts. Though karma point does not pull the content to the front page, it establishes the user as a genuine member of the community. It helps the user share trust with other members of the community.

Who is the target audience of Reddit?
It is not an easy task to extract demographic information on Reddit due to site anonymity.
Reddit is the 5th US site. It has 330 million+ monthly global visitors and 130k+ active communities with unduplicated reach. According to a report in September 2017 by Statistica, 69% of Reddit users are male. As per a report by Pew Research poll conducted on 2016, it found that people who use Reddit for news is skewed towards the male, as high as 71%. The report also mentioned the user base of 64% in the age group of 18-29 years and another 29% between 30-49 years. As per a report by Reddit released on January 2017, 54% of its traffic comes from the United States, with the United Kingdom ranked second at 7.4% and Canada ranked third at 6.4%.
What are Reddit ads?
Reddit ads also known as promoted posts are similar to regular posts submitted on Reddit. The major difference between them is that Reddit ads have a light blue background with "Promoted" label.
Why should marketers use Reddit for advertising?
As most of the marketers choose to market on Twitter or Facebook, Reddit is a source of inexpensive traffic due to low competition and huge opportunities. Reddit gives companies access to targeted niches through its subreddits, the only thing needed for marketers is the correct advertising strategy. Examples of companies with a huge impact on their business after advertising on Reddit are – Duracell which got 250 million+ impressions with the increase in the brand awareness metrics(16.3%) and online ad awareness(13.8%) and Findlay Hats which generated sales worth $28,000 through Reddit ads.
What are the different targeting options for Reddit ads?
By location – Location targeting is used when the user wants to reach out to the audience in a specific location. For example: to promote a rideshare app in a city.
By interests – As Reddit has a large user base of 330 million users, interest targeting helps the marketer to target audience on Reddit and subreddit based on their browsing behavior to reach a granular level of marketing.
By Community – As Reddit has 130k+ active communities, targeting communities helps the marketer to reach the likeminded audience to promote their product.
By device – Reddit ads can be used to target audience either on desktop, mobile or mix of both.
By time of the day – Reddit ads can be used to target an audience based on viewer's timezone so that the ad is visible at the right time and right place. For example – if the marketer wants to promote his business to working people, then he should make sure his ad is visible from Monday to Friday from 8 am to 6 pm.
Let us have a look at how advertising can be done on Reddit.
Understanding the strengths and weaknesses
On Reddit, people generally submit links to a subreddit that pertains to a specific topic and other users vote it up or down. Any submission that has more upvotes than downvotes gains more visibility. A Reddit user also has something called a front page which features the top posts from their subscribed subreddits. The Front Page of Reddit is also called "Front Page of The Internet" because that is the source for most of the trending stories of the internet.
Since Reddit has subreddits on almost every single topic it makes targeting very easy and accurate.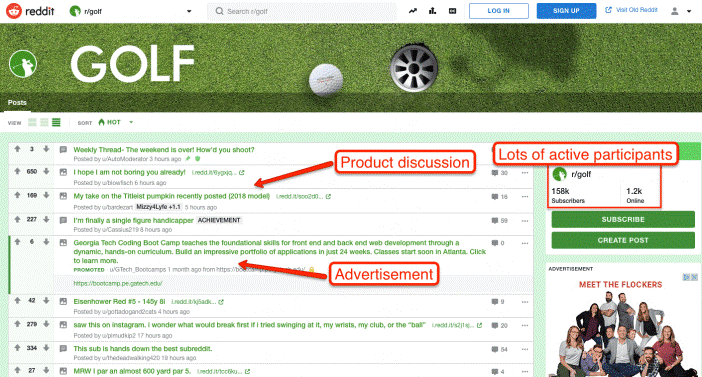 An example of what an advertisement on a subreddit looks like.
Some of the drawbacks, however, are that Reddit as a community is not very welcoming of advertisers and marketers. They are culturally and socially aware and hence can easily call out brands.
The basics of Reddit
The simple rules of Reddit are to be creative and cool, without having misleading headlines, rush and multiple targets. A campaign can have one promotion on one subreddit or front page for a certain amount of time. Reddit ads are based on cost per 1000 impressions (CPM).
Setting up an advertising account
It is inadvisable to run a campaign with your personal Reddit account so a new business username can be created. This helps in segregating your personal and business matters. On Reddit, it is always better to be transparent and legitimate so ensure that your username conveys what you really are trying to do on Reddit.
Finding the right audience
It is advisable to try and not advertise on the Front Page as that will not be targeted at all. Redditors go to the Front Page for fun and hence you won't be able to get good results for it. The best way is to go to subreddits. There are two criteria for picking the right subreddit. It should –
Be topically relevant
Have enough page views
Be topically relevant – Subreddits are available on almost every single topic and by every single we mean every single. They also have no naming conventions and it can be arduous to browse through them. While there are several online tools that can help in filtering, it is always better to finally go through them yourself to get a feel of the different subreddits. A lot of times the topic of a subreddit is different from what the name might suggest. Hence human judgment and opinion are required to make the right choice.
Have enough page views
A Reddit campaign has a minimum spend of $5 up to 3 months out. This means that a subreddit will have to have about 6,600 page views over the course of three months in order to be able to run a campaign. You will be able to know if a subreddit passes the cut only when you go ahead to set up the campaign however if a subreddit gets 73 views daily then you should be safe.
Setting up the campaign
Now let us start setting up the campaign. The first step is to visit Reddit Advertising and clicking on create an ad. Follow the steps given to create your campaign. First, you will have to enter your unique campaign name. The next step would be to choose an objective from the given objectives.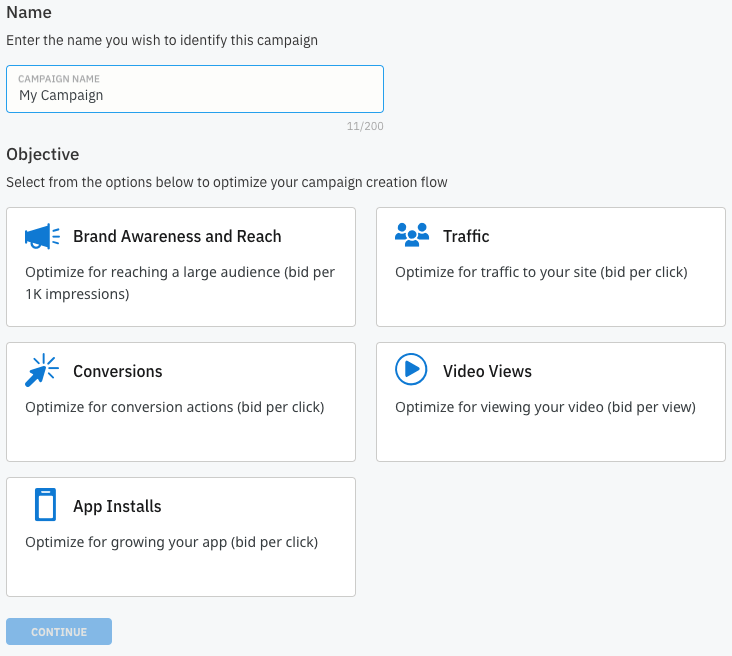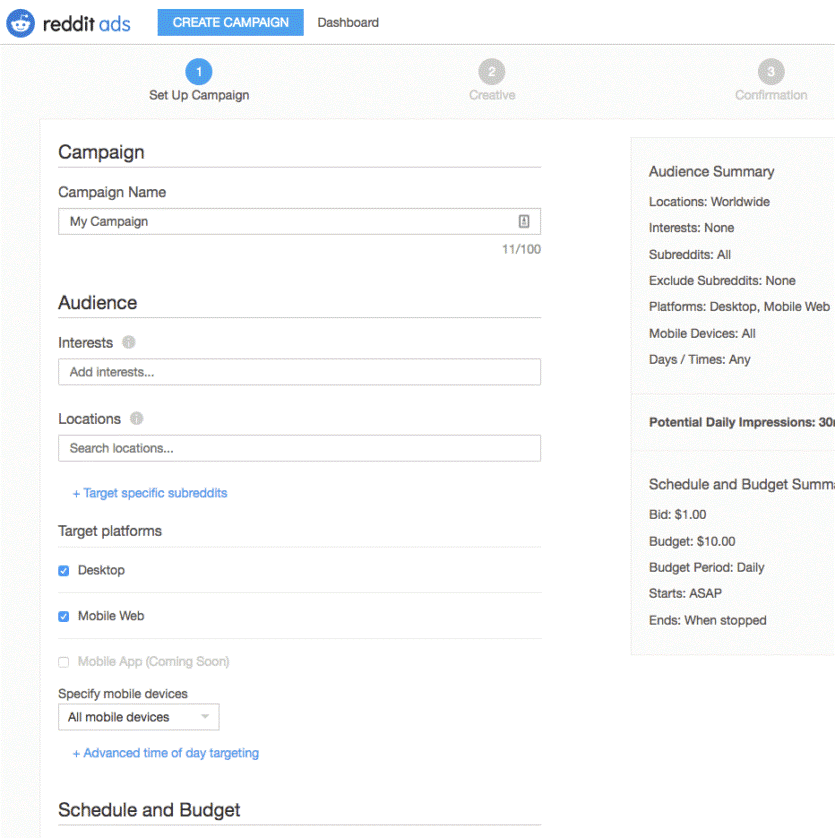 Create a conversational title. Make sure to allow for comments. You can target users based on interests or as per specific subreddits as discussed earlier. After that, you can select your platform and budget.
Daily budget – If you have an amount you wish to spend on your campaign per day, this is an average, not a hard number and you will som­­etimes deliver a bit more or a bit less than the value you input here.
or
Lifetime budget – If you have an amount you wish to spend over a given date range. Your ad will attempt to deliver your average daily spend each day until you hit your total budget, at which time your ad will turn off.
Bid – The Reddit Ads platform works on a second price auction, this means that the top bid for a given targeting set will end up clearing on the second highest bid plus $0.01. You will want to select a bid that reflects the most you are willing to pay.
CPM ('Brand Awareness and Reach' campaign objective) – Add your bid per 1,000 impressions (CPM).
CPC ('Traffic', 'Conversions', or 'App Install' campaign objective) – Add your bid per click
CPV ('Video Views' campaign objective) – Add your bid per video view
Schedule – Choose a campaign start date. Campaigns can run continuously starting from the date of campaign creation or have a fixed start/end date. All campaign start/end times are in EST.
Creating your ad
The next step is to build the ad creative. First, you will have to name your ad. This name will be invisible to other users. Following that you can choose the type of post based on your objective.
Some specifications –
Headline: 300 Character max
Destination/Click through URL: Must be HTTPS if link post
Running the campaign
In order for the ads to start, valid credit or debit card information must be entered. Billing will automatically happen once the ad spend reaches a given threshold across all campaigns or at the end of each month, whichever occurs first. The thresholds are as follows: $20, $50, $100, $250, $500, $1000, $2000, $5000, $10,000, and $50,000. Once this is done, you can publish the campaign. You will get an email once your campaign is live or you can check the progress on your dashboard.
Monitoring
Once the ad goes live, you will get an hour by hour impression and click data. Make sure to watch for comments which you will have to reply to. You can then see if you want to change your ad in order to improve it, implement these changes and then run the ad again.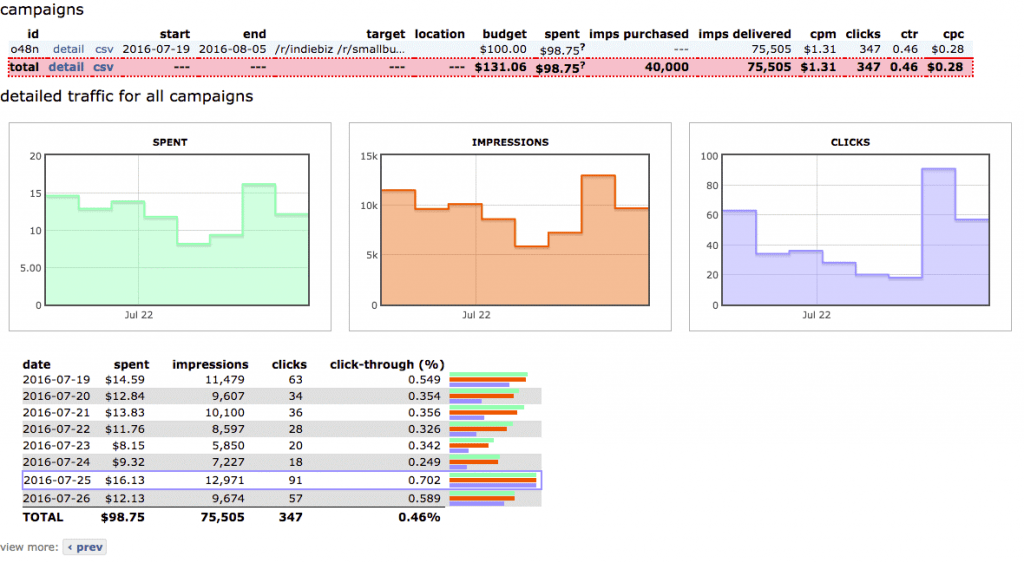 Managing the campaign
Your Reddit dashboard is the source for understanding the performance of your campaign. On this dashboard, you can add new campaigns, pause a specific campaign, duplicate it or archive and delete it.