Advertising on the online medium has grown by leaps and bounds. Marketers have found so many benefits in advertising on the online space. In online advertising, marketers have more control with the ad and you are able to measure it more effectively. Online advertising also helps marketers target their customers directly based on parameters like such as location, age, gender, interests and potentially a few others depending on the advertising platform. Advertising on the online platform is also more cost effective and is hence a popular choice.

About Facebook
Facebook is an American company that offers online social networking services. Facebook makes its money through advertisements. Facebook has over 1.79 billion monthly active users and more than 968 million people use Facebook every day. According to statistics –
4 in 10 social media users have bought a product after 'liking' it on Facebook or other social media platforms.
8% of consumers say that Facebook influences their purchasing decisions more than any other social media channel.
71% of consumers are more likely to make a purchase based on social media referrals.
Advertising on Facebook makes sense because people of all ages, nationalities and religions are on Facebook. Facebook ads also include ads on Instagram and hence it cost effective to kill two birds with one stone.
About Facebook Ads
A Facebook ad is that is created by any business on Facebook that's served to a Facebook audience based on user activity, demographic and profile information, device use information and off-Facebook activity.
A Facebook tool called Ads Manager helps create and manage Facebook ads. You can:
Create and run ads
Target ads to the people you care about
Set the budget
See how the ads are performing
See the billing summary, payment history and payment method info
Components of Creating A Facebook Ad:
Ad Creative: The ad image and text that conveys your message
Targeting: The audience who is the target of your ad
Placement: Place where the ad appears
Bid: Amount you're willing to pay so customers will see your ad and take the desired action
Budget: The amount of money you want to spend for your ad campaign
Schedule: Length of time your ad will run
Types of Facebook Ads
Image Ads
All Facebooks need to have an image because having an image of the product or service can impact the success of the ad. Photo ads are ideal for Brand Awareness, Engagement, Reach and Store Traffic advertising objectives.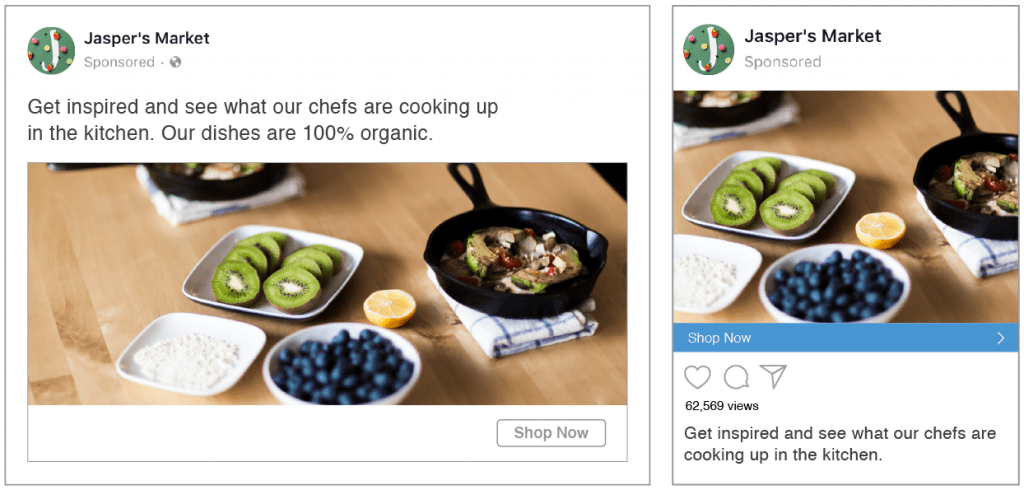 Video Ads
Video ads help advertisers reach more people, engage with audience, drive conversions and promote views. Hence for these objectives, video ads will work very well.
Slideshow Ads
Slideshow ads are basically a combination of multiple images or video, text and sound. Slideshows help capture audience's attention, engage with them and tell a story.
Carousel Ads
The carousel ad allows you to show up to ten images or videos within a single ad, each with its own link. It is mostly used for brand awareness, conversions, reach and traffic.
Collection Ad
A collection ad is the one that allows you to combine video, slideshow or image with the product images that are taken from a catalogue. This is used a lot by ecommerce websites because it allows you to show multiple products alongside a main creative. These help with the objective of increasing traffic, conversion etc.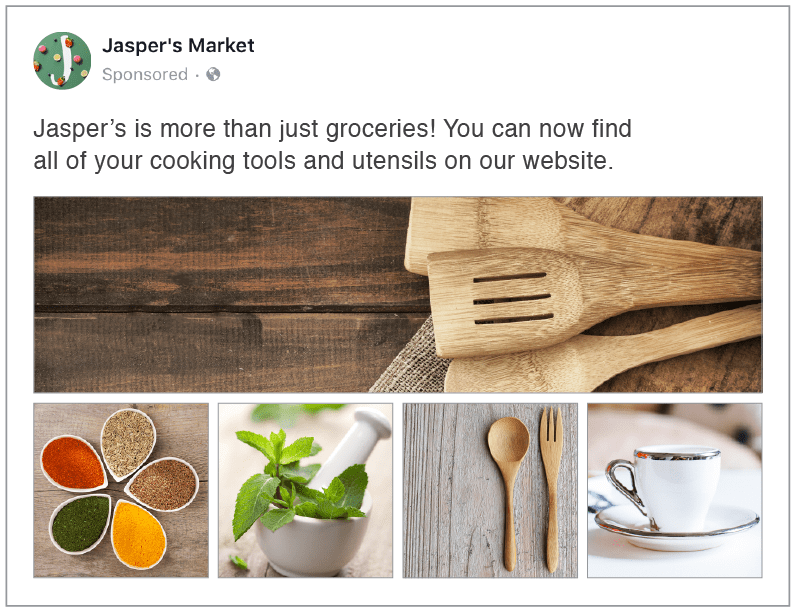 Instant Experience
Instant experience is a mobile only experience and it can be used with all of the other Facebook ad formats. The format is optimised to showcase products, highlight the brand or inspire mobile shopping. This helps with brand awareness, engagement, conversion, traffic or video views.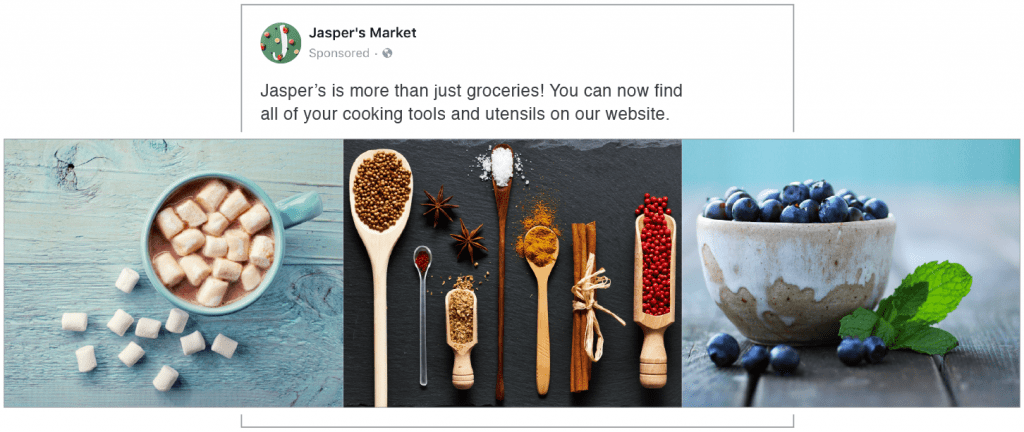 About the advertiser
While Facebook is easy to advertise on many companies fail because they are not the right fit. The main thing to remember is that Facebook ads are more like display ads than search ads. They are used to generate demand and not fulfil it. The point of advertising on Facebook is to not make people buy their products but to attract and engage with audiences.
It is important for advertisers to realise how to advertise on Facebook and what should be their call to action. For example, companies that successfully advertise on Facebook ask users to sign up and not to buy. Facebook users are not committed enough to go through with a purchase and will likely exit the page if they are asked to buy something. Hence simple conversions like signing up, filling a form etc are the right way to go.
However in order for ads to be successful they do need to bring in some money. The business model that suits Facebook the most has ads that earn revenue from their users over time and not all at once. Good examples of these are daily deal and subscription sites. Both have customers whose lifetime value is spread out over a period of six months or more.
The Process of Advertising
Structure of Facebook Ad
A Facebook ad has three parts – campaign, ad set and an ad.
At the campaign level the objective of the ad is set which determine what goals you want to reach at the end of the campaign. Ad set includes defining the targeting strategy by setting up parameters such as targeting, budget and schedule. Lastly, ads are creative visuals, and hence pictures, videos and text are important.
To access your Facebook Ads Manager Account, lick on the drop-down arrow in the upper-right corner of any Facebook page (that you have Admin access to) and select "Business Manager" in the drop-down menu.
In order to create a campaign, you should be on the "campaigns" tab. From there, click on the green "+Create" CTA to create a new campaign from scratch.
Objectives of Facebook Ad
The first step in the campaign is to pick your objective. It is important for every advertiser to have a goal or objective in place. These goals should be SMART: specific, measurable, achievable, relevant and time conscious. The objective you choose for your ad should align with your overall business goals. There are three types of objectives –
Awareness: Objectives that generate interest in your product or service such as brand awareness or reach
Consideration: Objectives that get people to start thinking about your business and look for more information about it such as increasing traffic, app installs, engagements, views, lead generation, and messages.
Conversion: Objectives that get people to start thinking about your business and look for more information about it such as conversions, catalogue sales and store visits.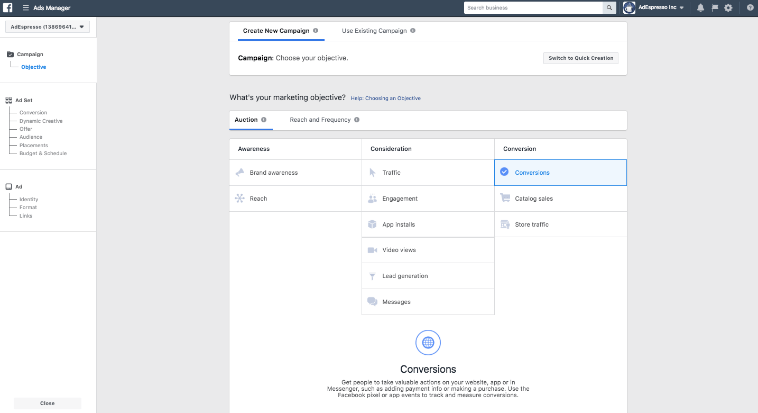 This is an important step as the rest of the campaign will follow this.
Campaign Name
The next step in the campaign is to decide your campaign name. This is an important step because adopting useful naming conventions can help you organise your campaigns later. A campaign name should have the date and it can also include elements such as client name/website, creative type, Facebook age etc.
Audience and Targeting
The next step is to target the right audience. Creating and managing the target audiences can be done by using the Audience Manager tool. This will be found in the Business Manager, by clicking on the top-right menu and selecting "Audiences."
Facebook has three primary audience types:
Saved Audiences – Saved Audiences are those that are defined by choosing people's interests location, age, gender, used devices, income level, etc
Custom Audiences – Facebook Custom Audiences are probably your most high-value target audiences as they allow to retarget past website visitors and people who have engaged with your content or app.
Lookalike Audiences – Facebook Lookalike Audiences let you reach the people who are similar to your existing customer database who are thus likely to convert as well.
One of the biggest advantages of using Facebook ads is the ability to target customers based on various parameters. On Facebook you can target users based on
Location
Age
Gender
Interests
Behaviour
Connections
Relationship Status
Languages
Education
Workplaces
When targeting an ad, you have two options: broad interest categories or precise interests targeting. Broad category targeting includes topics like Gardening, Dancing, and Gaming etc. While broad targeting may seem relevant in reaching a large audience, these users cost more and spend less. In precise targeting you find options like Harry Potter or Rugby. Facebook makes use of the likes and interests of users to get the information. It is necessary for marketers to know what interests to target.
Difference between interest based targeting and behaviour targeting – Interest targeting lets you reach members with relevant ads that match their professional interests — based on the content they share, like and engage with on Facebook. Behavioural targeting enables you to reach out to those who have exhibited behaviours such as a visit to a restaurant or the purchase of a product. Behavioural targeting is considered more effective because it is assumed that based on previous behaviour, that there is a greater level of interest and intent for a particular product or service that is being offered and that the ad is more likely to be clicked on.
Setting up Placements
Placement refers to where your ad will be placed on the Facebook app or website as well as on Instagram and Facebook Messenger. The available placements are –
Facebook: Feed, Instant Articles, In-stream videos, Marketplace, Stories, Right column
Instagram: Feed, Stories
Messenger: Inbox, Sponsored Messages
Facebook either has an auto placement feature or if you have data on what placement would work best for you then you could customise it.
Budget and Bidding
Choosing the right budget for your campaign is crucial to the success of the campaign. The first step is to assign a budget for your campaign.
Facebook gives you two budgeting options:
Daily budget – Facebook will spend this sum on delivering your ads every day during your campaign. When a daily budget is set, Facebook roughly gets your daily budget's worth of the results every day.
Lifetime budget –In a lifetime budget, Facebook will divide the total campaign budget more or less evenly across the campaign dates.
Advertising on Facebook is a competition with other advertisers. Facebook ad bidding works on an auction basis. The advertiser with best combination of best bid, relevance score, and "estimated action rates." Bidding can be manual or automatic however for someone trying ads for the first time, it's better to use automatic bidding.
Ad Scheduling
Facebook also allows advertisers to set up custom ad delivery schedules, so that your ads will reach people at your chosen days and time of day.
Create Your Ad
Creating your creative and the copy is the most integral part of the campaign because even if you reach out to the right people at the right time, if your messaging isn't powerful enough then it will not resonate with the audience.
We have discussed already the different types of ads and the ones you can pick based on what your objective is. For your ad, ensure to use high quality stock images or original photos. After this comes the ad copy which is the written text that accompanies the text.
Facebook ads have different fields where you can place text:
The main ad text – up to 90 characters
Headline – up to 25 characters
Link description – up to 90 characters
Once you have entered the text in the right places you will get to see a preview of how the ad will look based on which you can make changes.
Tracking and Measuring
Following are a few terms that are important to understand in order to measure performance.
Clicks: Number of clicks that an ad gets
Click-Through Rate or CTR: CTR stands for number of clicks received divided by the number of impressions
Impressions: It is the number of times your ad entered someone's screen for the first time
Reach: It is the number of people your ad was shown to
Frequency: Frequency is the average number of times your ad was displayed to a person
CPM (Cost per 1,000 Impressions): It is the average price paid to have 1,000 impressions on your ad
CPC (Cost per Link Click): It is the average cost paid each time someone clicks your ad
Conversions: These are actions that customers complete
Attribution: The various marketing efforts a person takes before making a purchase
The most important parameter that will help us track is click-through rate because it affects the number of clicks you'll receive as well as the amount you will pay per click. Ads with low CTR will stop serving or will become more expensive. Keeping a close eye on CTR by interests and ads will help us learn which audiences and which ads work best.
When ads start performing poorly, it is necessary to refresh the ads with new images and copy. By monitoring the performance of the ads over time, will help us determine the ones that generate the best CTR.